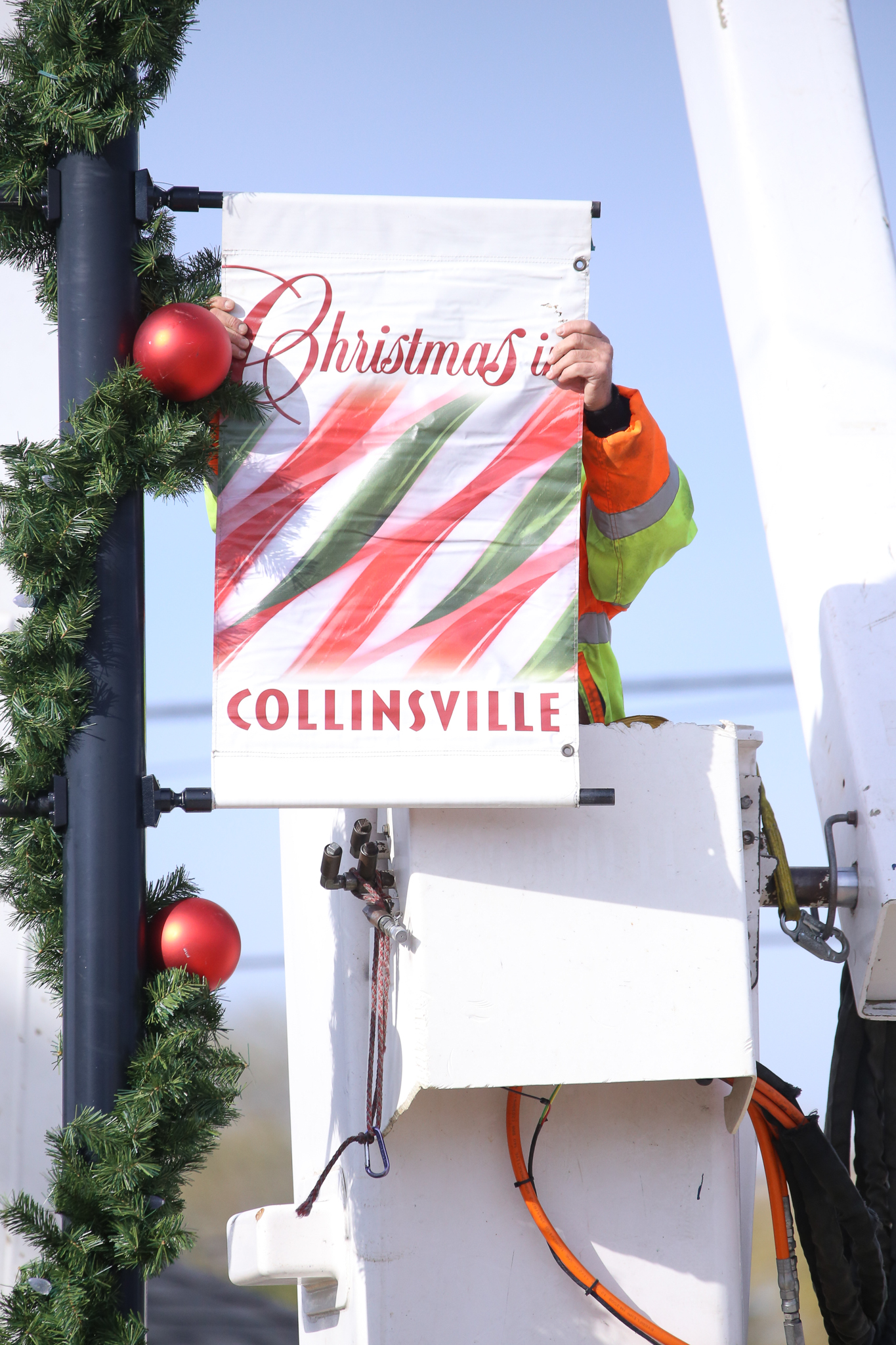 Collinsville, Ill. – Every winter Collinsville transforms its Italian pizzazz into winter flair with community events, collection drives, and holiday cheer.
Holiday Kickoff: Kick off the holidays with the lighting of the town's Christmas Tree Collinsville Township Dec. 2, 6:00PM – 8:00PM. Santa Claus will be arriving to help kick off the celebrations at the Collinsville Township at 305 E. Main Street. New unwrapped toys will be collected for the Toys for Tots organization as well.
Christmas with the Collinsville Chorale: The Collinsville Chorale will be singing Christmas songs in their concert held at Holy Cross Lutheran Church at 7PM, Dec. 2. Come listen to the Community Chorus dedicated to the love of music and community. Holy Cross Lutheran Church is located at 304 South Street, Collinsville, IL.
Breakfast with Santa Claus: Chow down on some breakfast with Santa Claus early on Dec. 3 and get a chance to have your photograph taken with the big man in the big red suit.
The annual event, sponsored by the Collinsville Area Recreation District (C.A.R.D.), brings the whole family to enjoy a delicious hot breakfast buffet at local staple, Ravanellis.
Children receive a gift and have a free photo taken with Santa Claus. This event is open to those of all ages. Registration is required to attend. Admission is as follows: Children (3 to 12): $13 ($12 with Benefit ID) Adults: $11.
Photographs with Santa Claus: Follow the big man to the historic Miner's Theater for a free photo opportunity with Santa Claus. The event is sponsored by the Collinsville Main Street Association. Photographs can be picked up the following week at the Collinsville Chamber of Commerce. Dec. 3 from 11:00AM to 3:00PM. Admission is free.
Library Children's Christmas Party: The Collinsville Memorial Public Library is having a Christmas Party! Children and families will enjoy story time, crafts, and a screening of "A Charlie Brown Christmas." There will be hot cocoa, festive snacks and a special visit from Santa Claus. Dec. 3, from 3:00PM to 6:00PM. Admission is free.
"Letters to Santa" at the Collinsville Memorial Public Library: Children, write a letter to Santa, then drop it off at the Collinsville Memorial Public Library's special "Letters to Santa" Mailbox! Your letter will be delivered to the North Pole, where Santa will read it and send you a special letter back if you've been "nice" this year!
PARENTS: Please be sure that your child's clearly-written name and address (as well as any other pertinent details) are included in the envelope.
Letters can be mailed from Nov. 21 – Dec. 16 at the Collinsville Memorial Public Library. The Collinsville Memorial Public Library is located at 408 West Main Street, Collinsville, Illinois 62234.
Collinsville Township Holiday Trivia Night: Collinsville Township Senior Center presents Holiday Themed Trivia Night benefiting the Collinsville Township Food Pantry. Dec. 3, 6:00 PM – 10:00 PM. Admission is a minimum of three non-perishable food items or one new toy per person. There are five to ten people per table. To reserve your table, call the Collinsville Township Senior Center at 618-344-7787. The trivia night will include a 50/50, mulligans for sale, Holiday Hot Potato, special games, and a Holiday Spirit Award. Some refreshments will be provided, but no alcohol is permitted at the event.
Christmas at Willoughby Farm: Get into the holiday spirit at Willoughby farm while it is decorated for the Christmas season. Visitors will sip hot cider or hot chocolate and nibble on holiday sweet treats while visiting with Santa Claus in the farm house. Remember to bring your camera to snap a photo of Santa with your little one. Gather in the Bank Barn for a holiday sing-a-long while guests make ornaments to take home. The holiday celebrations at the farm take place Dec. 4, from 1:00PM – 4:00PM. Admission is free.
Festival of Trees: Mark your calendar now and come out to the 23rd Annual Festival of Trees to Celebrate this year's festival theme, "Children of the World." The evening will be filled with music, cocktails, food and desserts. All of the beautiful decorations will be auctioned off in order to benefit children of our area through the Kiwanis Clubs. The event is on Dec. 7, from 6:00PM – 10:00PM at the Gateway Center. The Gateway Center is located at 1 Gateway Drive Collinsville, IL. For more information, please contact Donna Betta (618) 346-0114 or Julie Clark (618) 558-9416. Tickets for the Festival of Trees event are $40.00 per ticket.
Cocoa, Cookies & Cheer with Santa: Spend the morning with Santa, Dec. 10! Join the YMCA for a morning of Cocoa, Cookies and cheer. Activities Include: Decorate cookies, Games, Balloon Animals and a Vendor/Craft Fair. Santa arrives at 9:30am. Interested vendors can contact the YMCA at 618-346-5600. The Collinsville Maryville Troy YMCA is located at 1 Town Center Dr. Maryville, IL. Admission is free.
Annual Holiday Business After Hours: For members of the Collinsville Chamber of Commerce, come out and celebrate with some fun and festive food while networking at the Best Hometown Bank's Annual Holiday Business After Hours on Dec. 15, from 5:00 PM to 7:00PM.
Collinsville High School Band's Winter Concert: The Collinsville High School Bands will be presenting their holiday concert at 7PM in the Collinsville High School Center for the Arts auditorium on Dec. 15. The combined ensembles will be playing a vast variety of musical selections varying from modern wind band works to traditional holiday tunes. Admission is $5. The box office opens at 6:30PM to purchase tickets.
Blum House Market: This unique holiday shopping opportunity with 12 local authors and artists presenting books, paintings, artisan crafts and handmade items, on Dec. 17 from 12PM – 5PM. Contact the Collinsville Library for more information at 618-344- 1112 or visit www.collinsvillelibrary.org. The Blum House is located at 414 West Main Street, Collinsville, IL.
A full list of holiday events can be found on www.discovercollinsville.com/events.