Daily Archives: February 14, 2017
The following are arrests made from February 6, 2017 through February 13, 2017 by the Collinsville Police Department. Quirin, Joshua D. Name:Quirin, Joshua D. -...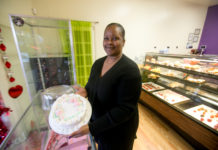 A home-based baker has turned her love of cakes and pastries to Collinsville's next locale for some sweet treats. Angela Buchanan decided to open "Ms....