COLLINSVILLE – Thirteen Collinsville High School students went toe-to-toe vying for the title of Miss Snowflake 2017 at the annual pageant.
The pageant consisted of a similar set-up as the Mr. Homecoming pageant each year; native-wear, talent, and evening-wear portions followed by a judge's question for each of the finalists.
This round of extremely well executed acts made judging a very close call, even having a four-way tie for first place at one point in the competition.
The acts varied from original spoken word poetry, broadway hits, instrumental acts and everything in-between.
Senior Lydia Latham, 18, of Maryville, performed the first movement of "Introduction and Dance" composed by J.E. Barat. Latham is planning on studying Music Education at the University of Illinois at Urbana – Champaign
Senior McKenna Miller, 17, of Glen Carbon, performed the piece "Piece by Piece" by Kelly Clarkson and included a heartfelt commentary beforehand dedicating her performance to her stepfather.
There are typically only five finalists in the competition but this year's judging staff ruled a tie and added a sixth finalist. The finalists were: Alyssa Werths, Lydia Latham, Darcy Autenrieth, Mackenzie Frey, Emily Falbe, and McKenna Miller.
"I'm very proud, and just filled with a lot of emotion. I met McKenna when she was 2. I became her dad right then and now it's been 16 years," Miller's stepfather, Dan Shofroth, of Glen Carbon said
Shofroth was not aware that Miller was going to be singing Kelly Clarkson's chart-topper, "Piece by Piece."
"I had no idea that she was going to be singing the piece but all of her friends seemed to know. I'm very proud of her," Shofroth said.
The finalists were asked the following question in the final round: How has growing up in a world with publicized mass shootings and terrorist attacks impacted your life?
The responses are as follows:
Alyssa Werths: The world has broadcasted mass shootings and terrorist attacks and that has taken away from the peace in our world. Instead of broadcasting the positive in our world, you always see the negative. Someone doing something positive won't be on the front of a newspaper. Kids do positive things at school everyday that we don't hear about but if there's a fight in the bathroom, that's what hear about. It's sad. It makes me worry about the kids coming after us. What more could go wrong?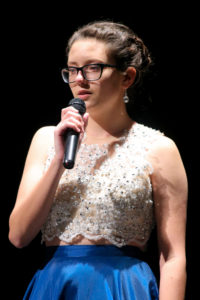 Lydia Latham: I would say that it really didn't impact my life until high school. My freshman year, I remember reading a book about a school shooting in class. I didn't realize how much it would affect me until I thought about [the possibility of it] in our school. The security wasn't what it is now and it really gave me a sense of fear. I'm speechless. I haven't thought about it until this moment. It's scary to think that you never know if you're going to be back here tomorrow.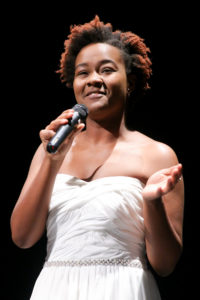 Darcy Autenrieth: Well honestly, [the thought of terrorist threats] scare me to be in public spaces sometimes because it's happening all over the place. Other than that, it hasn't impacted me that much.
Mackenzie Frey: If our world is like this now, I can't imagine what our future is going to be like. It's kind of frightening to know that if our generation is so involved in violence, what our future generations will do.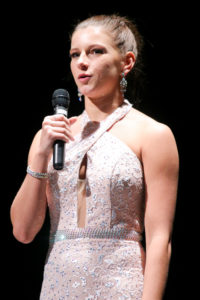 Emily Falbe: Growing up in a world filled with violence, it saddens me because we should be able to live in a world that is happy. We should not have to worry about attacks randomly, we should be able to live freely. Terrorist attacks make me very sad and I pray for those affected by those.
McKenna Miller: Growing up in a world with everything in the media, we see everything is so vivid and immediately. You start to understand everything that can happen around you. While everything that happens is traumatic and awful such as Columbine and 9/11 and the families that lost their lives. We also get to see how America joins together and wraps their arms around all of the people we have lost. It's a give and take, I'd rather know than not know.
After an extended amount of deliberation and impromptu piano playing by Master of Ceremonies, Dakota Tostado, the judges named senior Alyssa Werths second runner up, junior Emily Falbe first runner up, and senior McKenna Miller was named Miss Snowflake 2017.
"I'm just very happy to be leaving Collinsville High School as Miss Snowflake and I'm glad I had the opportunity to share my feelings to the audience and let them know how I feel about life and terrorism and everything else," Miller said.
Junior Emily Falbe, of Maryville, fought off nerves by participating in the pageant this year.
"I'm really excited because this was my first time doing this and I was a little nervous but I had a great time. I loved it," Falbe said.
Playing piano has been one of the best experiences in her life, according to Falbe.
"I've played piano since the first grade and it's been one of the best experiences in my life, I love it," Falbe said.
Finding the right piece for the audience was a key to success in this year's competition.
"I thought people would enjoy listening to a song that they knew so I went online and found Drake's "One Dance" and thought that they might like it," she said.
Senior Alyssa Werths, of Maryville, didn't have intentions of placing in the competition.
"I did this pageant just for fun, but I'm super excited because it's my senior year," Werths said.
Her original poem was inspired by Donald Glover, or more commonly known by his stage name, "Childish Gambino."
"I was listening to the artist Childish Gambino and I really like the beat to his song. I used that as inspiration to write something that kids would be able to relate to at Collinsville," Werths said.
This weeks winter spirit week will culminate at the Winter Ball dance this weekend at Collinsville High School.