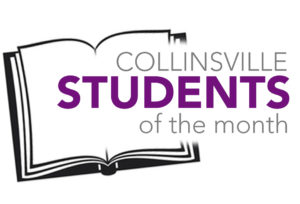 Students of the Month
August: Logan Troy was awarded the student of the month status for his commitment and his dedication to the Mannie Jackson Conversations Toward a Brighter Future Committee. At Collinsville High School, "he is heavily involved in making C'HS a better place for students and staff alike." counselor Karen Olsen said.
September: Dylan Hall was awarded the student of the month for being the chair person for the Stem Club's 'Solarbration' event on Saturday, Oct. 1st. "Hall has done several things for the Stem Club through the 'Solarbration' event and in the other clubs he participates in," counselor Karen Olsen said.
Seniors of the Month
August: McKenna Miller was awarded senior of the month for August for being the 2016 Illinois Association of Student Council's treasurer.
September: Aidan Latham & Masen Kane both earned National Merit Commended Scholar Recognitions in August.
Athletes of the Month
August – Jaaron Williams, Football: The Football team coaches and staff chose Williams for "being one of the leading receivers – rusher in yards per carry, kick returner and starting DB. He is a tremendous player and athlete who works very hard and never comes off the field playing offense, defense and special teams," the coaches said.
September – Jennaka Cain, Tennis: Cain is a sophomore who has stepped up during her freshman and sophomore years to play the number 1 singles and number 1 doubles positions for the Lady Kahok Tennis team. Cain is competing against older competitors such as juniors and seniors who already have college offers. Cain has had two big wins for the Kahoks against Highland and Waterloo.